Nov 3, 2020 • 1HR 11M
🎧: Dark & private thoughts ft. my siblings
The Maybe Baby podcast is a mixed bag of interviews, advice, and unfiltered thoughts on the topics of culture, politics, the internet, and being alive. It's a supplement to my weekly written newsletter. New episodes every Tuesday.
You're receiving my Tuesday podcast because you're a paying subscriber of Maybe Baby. Thank you! To listen in your preferred app, click "Listen in podcast app." Then it should automatically populate there every week.

Good morning on this average Tuesday,
This week I invited my favorite people in the world, Kelly and Andy Nahman, my older siblings, onto the podcast to discuss my last newsletter, #30: Intrusive thoughts. We talk about anxiety spirals, insomnia, and the strange neuroses we tend to leave out of small talk. I may be biased because I love my siblings and want to know everything going on in their brains all the time, but this one made me laugh a lot. I do want to warn that our tone may come across as insensitive or cavalier due to the gravity of the topics…so if dark humor isn't your thing, or you're not in a place to make light of serious things, this one might not be for you. Here we are looking happy in 1992: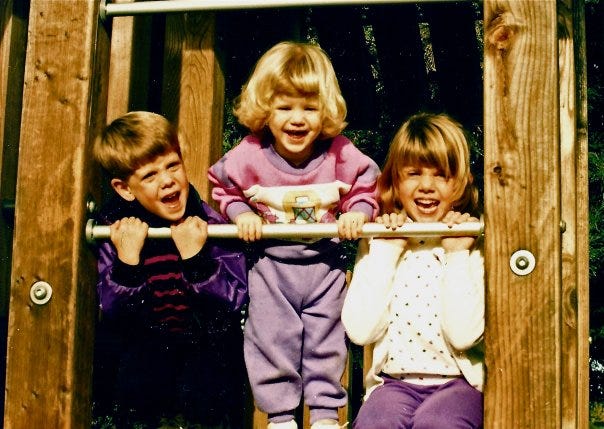 And yet our jet-black eyes hint at something dark beneath…
Hope this serves as a welcome distraction on what might be—no reason, just spitballing—a stressful day. And let Kelly know in the comments if you, too, fantasize about being a pivotal witness in a criminal trial.
Thanks for listening,
Haley
Today's thematic musical accompaniment (a cover of Simon and Garfunkel's "Sound of Silence") is by Avi Bonnerjee, recorded on our couch on Monday at my behest while he was busy doing other things!

This month a portion of subscriber proceeds will be redistributed to Palante Harlem Inc, a New York-based nonprofit working to reduce poverty, end tenant exploitation, and advocate for safe housing in Harlem.

Subscribe • Request a free subscription • Ask Dear Baby a question • Gift a subscription