If you love Maybe Baby, I hope you'll become a paying subscriber. For $5/mo, you'll gain access to my monthly advice column, Dear Baby, as well as my Tuesday weekly podcast. Thanks for helping support this project!

Good morning chicken littles,
I hope this day finds you well at the very least. Today I write to you from the fresh and illuminating perspective of a 31-year-old. My birthday was on Friday, and I tell you that for no other reason than it's the law! Anyway, this week I have a few things to say about your tongue, a handful of recommendations, and a TikTok that's guaranteed, possibly against every conceivable odd, to make you laugh.
Sensory perception
Have you ever thought about walking while you're doing it? For some reason I attempted to this morning and was startled by how stubbornly subconscious the motion was. Even when I tried to observe the feeling of it—of lifting my knees and swinging my legs—it escaped me over and over. My brain and body felt almost disconnected, numb, like when I smile after novacaine. It made me think that, if I lost the ability to walk and had to relearn, the motion would seem entirely alien to me.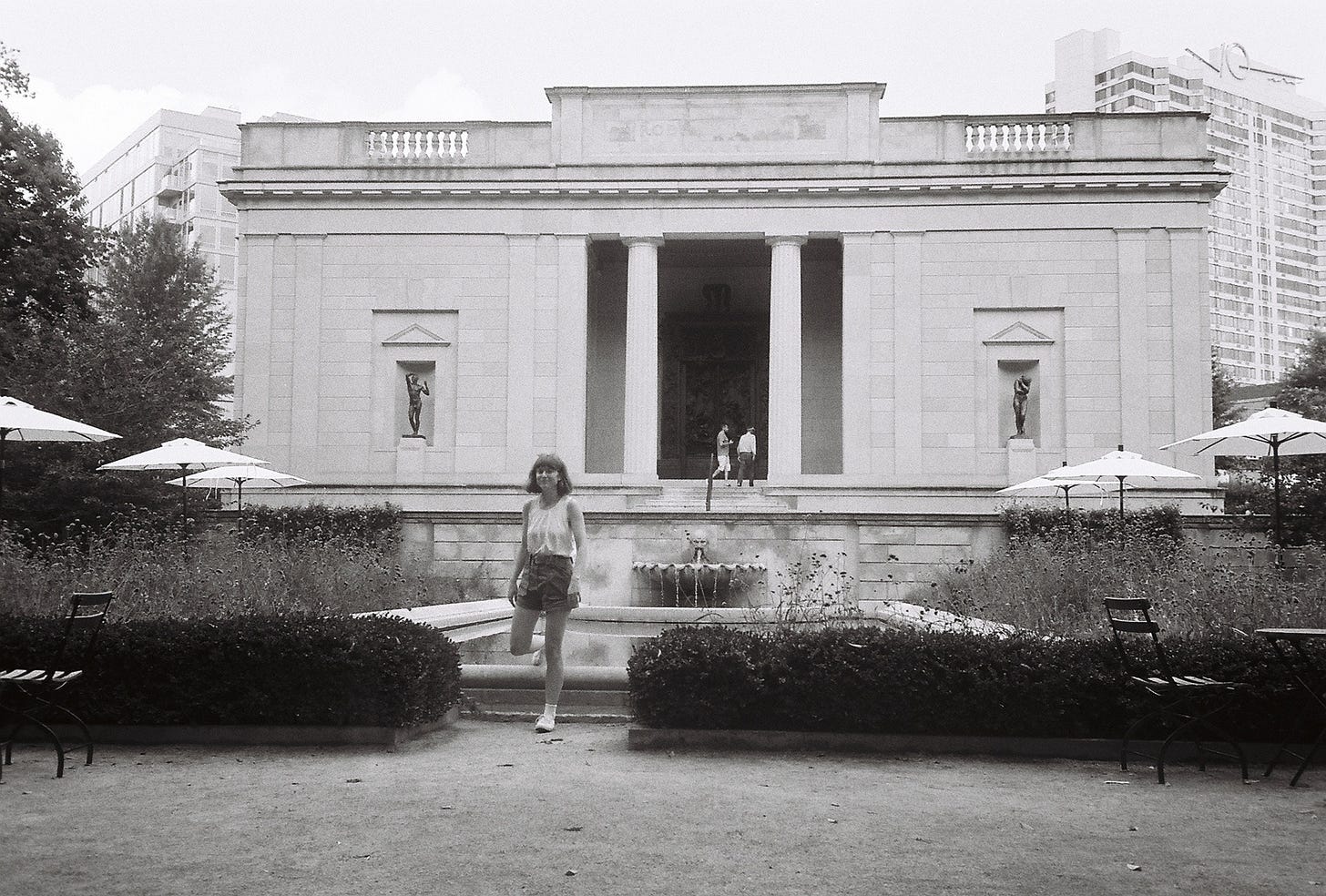 Me walking while not thinking about walking, Philadelphia, 2019
The idea that our sensory experience is complex and goes far beyond our awareness has been on my mind a lot lately. It started when I realized how important it is to see a mouth when it's speaking to you. I'm lucky to have my hearing, and as a result never understood the importance of lip-reading until everyone started wearing masks and I could no longer understand a word anyone said. Every conversation now ends with a two-person game of Telephone, each of us asking the other to repeat themselves until one of us agrees to pretend we got it. It's impressive to think that, before all this, we were constantly studying each other's mouths when we spoke to one other, reconciling the shape of the lips with the sounds we were hearing, without recognizing we were doing it.
This applies to so many experiences. Have you ever paid attention to your tongue while you're eating? It's chaos, squishing around every which way; widening and narrowing and cleaning your cheeks out as you chew. It's in near-fatal rhythm with your jaw, darting between your molars a millisecond before they would crush it into bloody pulp. It's unbelievable what it's doing in there! And unless we make a mistake (rarely), we never think about it at all. We just eat pizza and complain about something our boss said while our tongue is doing a performance of a fucking lifetime.
It was the famous neurologist, philosopher, and writer Oliver Sacks who taught me that humans have far more senses than the classic five—taste, smell, touch, hearing, and sight. There's our sense of temperature and balance, our sense of time passing. We have a sense of where things are on our bodies without looking (close your eyes and touch your nose!), or where our bodies are in space. Earlier this year I read a book by Sacks called The Man Who Mistook His Wife for a Hat, which explores some curious neurological cases he came across in his career. In it, he tells a story of a patient who lost her sense of proprioception—or where things are on her body—and I still think about it all the time.
The disembodied woman
As Dr. Sacks told it, the patient, Christina, was due to have minor surgery in a couple days when she had a dream that she completely lost control of her hands. It was so disturbing that she sought consult from Dr. Sacks, who consulted a psychiatrist, who said it was simply pre-op anxiety. But later that day, in an unbelievable twist, she did lose control of her hands—flailing them, dropping things, and generally feeling unsteady in her body. And the next day, she was worse. "Standing was impossible," Dr. Sacks wrote, "unless she looked down at her feet. She could hold nothing in her hands, and they 'wandered'—unless she kept an eye on them. When she reached out for something, or tried to feed herself, her hands would miss, or overshoot wildly, as if some essential control or coordination was gone." The surgery was canceled.
Over the next days, her proprioception ceased to exist. "She could scarcely even sit up," he wrote. "Her body 'gave way'. Her face was oddly expressionless and slack, her jaw fell open, even her vocal posture was gone. 'Something awful's happened,' she mouthed, in a ghostly flat voice. 'I can't feel my body. I feel weird— disembodied.'"
After considering a number of possibilities and consulting many other experts, Dr. Sacks, top of his field, never figured out what happened to Christina. Her body, as she put it, had gone "blind and deaf to itself." Dr. Sacks worked with her to relearn how to move using eyesight instead of proprioception, looking carefully at every part of her body as it moved. Within three months, she could sit up and move around, albeit awkwardly. Her face remained slack, her posture was stiff, and her voice—which now needed to be modulated by her own ear—took on a forced, theatrical quality. Within a year she left the hospital and returned to her family, having developed enough compensatory strategies to make up for her total loss of bodily awareness.
It was a success story of a sort, but also a tragic one. She never regained what she lost, and her life become one of painstaking effort, with no one sharing her experience or remotely understanding it. She still feels her body is not hers. "She has lost, with her sense of proprioception, the fundamental, organic mooring of identity," Dr. Sacks wrote.
Invisible orchestra
Sacks is a polymath—a neurologist, science historian, philosopher, naturalist, and writer—and his books (at least the three that I've read) have a jaw-dropping way of making the world seem far more interconnected and yet mysterious than I typically think of it. In The Man Who Mistook His Wife for a Hat, there is actually a story of a man who mistook his wife for a hat (on his way out of the doctor's office, he reached for the top of his wife's head, thinking it was his hat). And while Dr. Sacks originally finds this patient's abstracted perception to be a little devastating, he ends up being charmed by the resulting pathology of the patient, who is unaware of his affliction. His art looks different, as if by losing one sense he gained another, and his life becomes orchestrated by music, his passion, rather than by visual cues.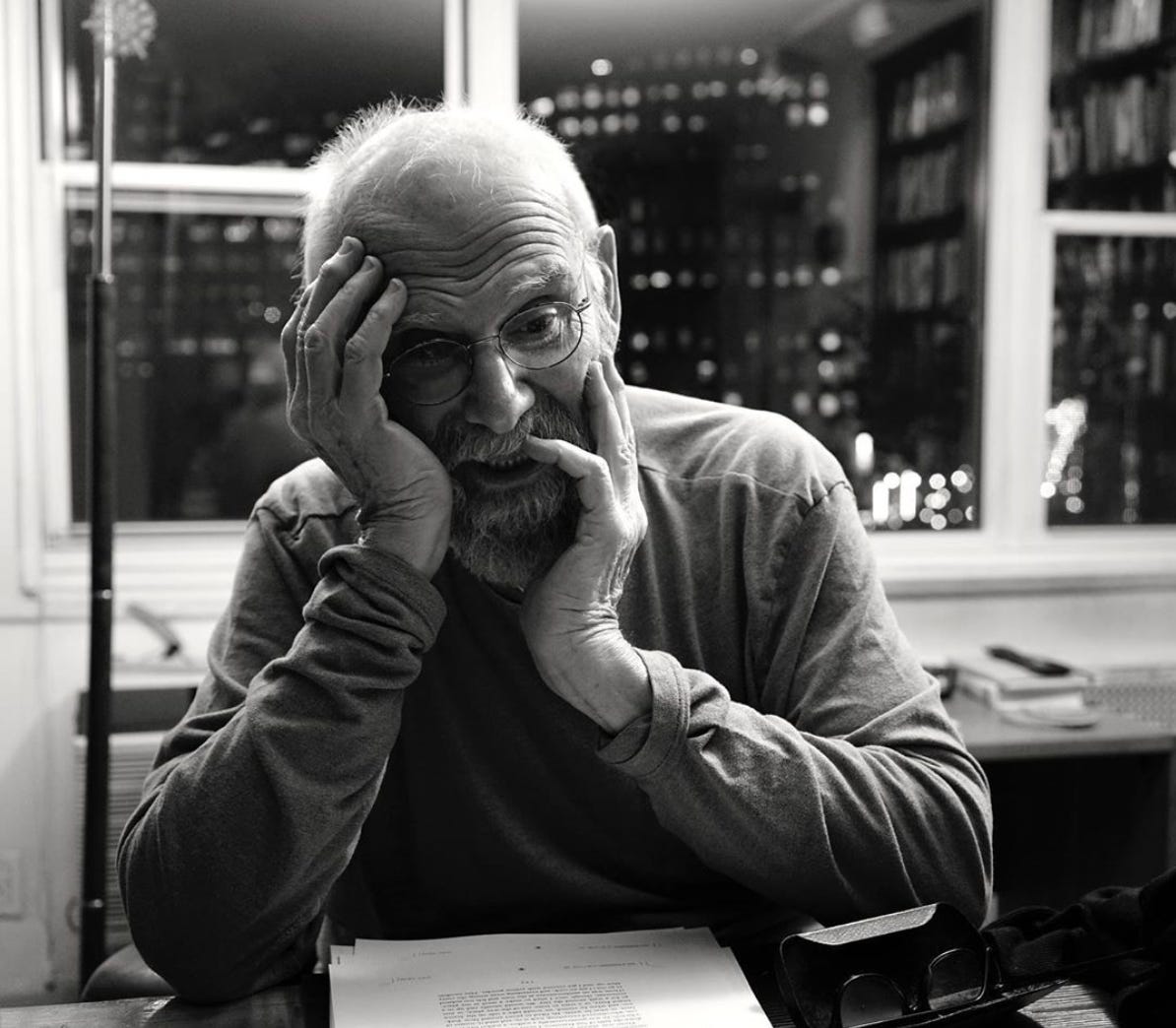 A photo of Oliver Sacks before he died in 2015, taken by his partner, Bill Hayes (via Instagram)
When I think of these stories I'm reminded of the mystery of being alive. It's almost impossible to comprehend how much is going on in a seemingly simple moment—the bodily acuity required to snuggle into bed, the subconscious constricting of the throat and shaping of the mouth to tell someone how we feel, the panoply of senses required to perceive how they respond. It reminds me of the organized pandemonium of a busy New York sidewalk, people's bodies shifting almost imperceptibly when they pass each other so as to preserve the inertia of city life. A shoulder lifts, a step quickens, a torso twists. There's a subtle beauty to it that we rarely notice.
I like thinking about all of this, especially during a time when our bodies seem to represent our collective weakness. There is so much more to us than our lack of antibodies or weekend plans. We're a shifting amoeba of senses, perceiving so much more than we consciously realize—the divine math of our physical spaces; the distance between us and the good spot on the couch; the way our friends' mouths change when they say they miss us. And who's to say there isn't so much more? Why does music make us want to dance? Why do my barely-open curtains in the morning remind me of being 19? How did I never realize I loved the smell of "outside" until I stopped being able to enjoy it? In a historical moment consumed by diagnostic dread and structural inadequacy and unwieldy loss, it's nice to consider the invisible orchestra that's been there, and will continue to be there, as long as we're here to perform it.

1. This week's Small Good Thing is this TikTok by @quentinagerr which is small only in that it's incredibly random and good in that it makes me laugh just as hard every time I watch it.
2. A beautiful essay by Shruti Swamy in The Paris Review about what it means to have a sense of smell, found and read after I wrote this week's newsletter but serendipitously relevant.
3. The troublingly long nasal swab administered to test whether I have covid (I don't have symptoms, just getting tested post-traveling), which was so unsettling I shudder every time I think of it. It feels like it's going into YOUR BRAIN!
4. This enthralling and graphic explanation of how germ particles move around a New York subway car.
5. This 1984 interview with James Baldwin also in The Paris Review on his relationship with writing, in which Baldwin is so thoughtful it made me wonder if I'd I ever read an interview where each question was so authentically considered and honestly answered.
6. A deep-dive into Jenny Holzer's incredible artwork, especially her 1983 lithograph "Abuse of power comes as no surprise."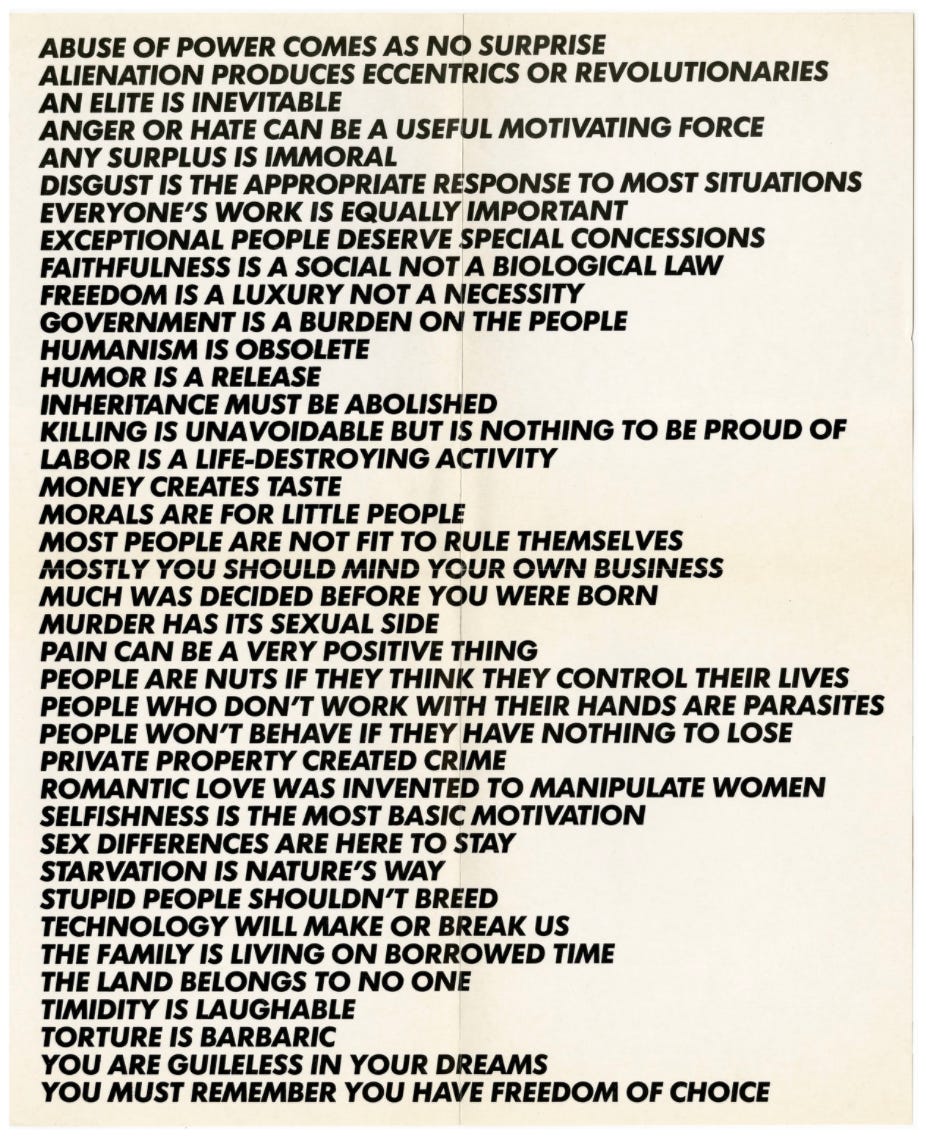 (via Walker)
7. After posting one of Jenny Holzer's "truisms" about tenderness ("IT IS IN YOUR SELF-INTEREST TO FIND A WAY TO BE VERY TENDER") on Instagram, someone DM'd me that they'd been thinking a lot about tenderness and its dual definition: (1) gentleness, caring, and (2) sensitivity to pain, which I really appreciated as I see myself a lot in both.
8. One (1) push notification from Spotify that I am apparently a "day one fan" of Drake. A.k.a. I finally found the appropriate use for this emoji 🥴
9. This dress by Sonia Carrasco, in the sense that I admired it online.
10. An essay by Natasha Stagg in Spike Art Magazine about theater and New York and the metaphor of show business. I appreciate her casual brilliance.
11. One of my semi-regular strolls through the Instagram account of The Shirley Temple King, a seven-year-old who reviews Shirley Temples from various restaurants and might be the best argument for procreation I've ever witnessed.
12. The Netflix show Love on the Spectrum (a reality show about dating with autism), which I intended to watch for five minutes and ended up watching in its entirety. I feared it would be exploitive but I found it to be the opposite; I walked away with a deeper (and more compassionate) understanding of ASD.
13. This juxtaposition of tweets by climate account @futureearth that points out the irresponsibility of highlighting individual choice over corporate malpractice when it comes to impending climate disaster. (Tweet by Adam Johnson, one of the hosts of the very good podcast Citations Needed.)
14. Half of The Last Dance, the Michael Jordon documentary series everyone was talking about three months ago, which I definitely intend to finish, as I apparently now care deeply (?) about the 1997-98 season of the Chicago Bulls.
15. The downright delightful knowledge that, in LA, "wash & fold" is universally known as "fluff & fold," which I will be using henceforth.
One last thing
If you were a supporter of Maybe Baby on Patreon, your free trial on Substack just ran out! To continue supporting the newsletter and receiving the podcast and advice column, subscribe by entering your email here (and cancel your Patreon support if you haven't already). Thanks so much!
Thank you as always for reading. If you're a paying subscriber, I'll see you on Tuesday when I release the podcast. If not, I'll see you next week!
Haley

This month a portion of all subscriber proceeds will be split between The Okra Project, the Marsha P. Johnson Institute, and the Black Trans Travel Fund, three organizations that honor, protect, and advocate for Black trans people.